Manga refers to Japanese comic book or graphic novels created for Adults as well as Children. It started to become famous in the mid-20th century, and since then it is part of Japanese Culture. You can estimate the popularity of manga yourself as each Japanese spend around $30US for manga every year. That's why Manga creators are well respected in Japan. Unlike, anime Manga are black and white. The best thing about manga is that every week around 40 new manga is created. So, if you want to read a certain type of story then don't worry, there will be a manga for you.
Fun Fact – Japan uses more papers to print manga than toilet paper.
Types of Manga
I will share different types of Manga with you that has become famous in Japan. So, you would not have any trouble exploring them yourself –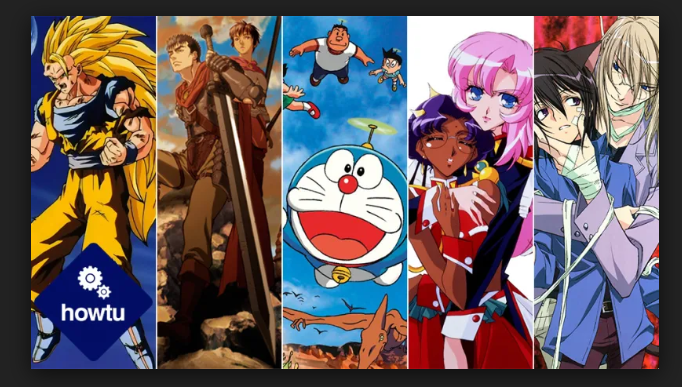 Shônen- Manga for boys.
Shôjo- Manga for girls
Josei– women's Manga
Seinen- men's Manga
Kodomo- child­ren Manga
How is Manga different from American Comic Book?
Manga tells you a unique storyline that is suitable for people of all ages whereas American comic books are read by children mostly.
In American Comic book Industry publishers such as DC, Marvel owns the right of comic book characters whereas a manga artist owns Japanese manga. However, the publisher has some influence such as they can force an artist to continue writing the series or end the series if it's not that much popular.
Manga is more visual for you as compared to American Comics.
A creator or a team of creators write manga whereas a publisher has the right to change the creator of American comics.
Manga tells one version of the story to you whereas American comics tells several versions of the same story.
Manga follows the traditional Japanese style. You can read a manga from right to left opposite of American Comics.
Manga is available in the black and white format, whereas American comics are usually in color format.
Want to Play CLASSIC SEGA GAMES Click Here.
Why should you read Manga?
I used to watch anime daily. However, one day I noticed that most of the animes have no end. I was not able to find continuation in them. Later, Upon checking it out, I figure out that most animes are based on the manga. Moreover, I realized that most of the anime that I used to watch already have an ending in Manga.
Earlier, I was not particularly eager to read, but now Manga has improved my reading ability. I, myself, have become a devoted Manga reader.
How To Read a Manga Online
If you are curious about Manga and want to read it, then follow these steps –
First of all, Open this website.
Click on download Now or Scan the QR code on your smartphone to download manga app.
Enable unknown sources in the security setting.
Install the apk.
Now, browse Manga from the library of different genres.
However, if you want to read manga on a browser of PC or Smartphone, then go to this website and read the manga of your choice.
Manga that I recommend
If you are new to the world of Manga, then I would suggest you start with these Manga.
1).One Piece –
It began in 1997 and running with 872 episodes till date. It has approximate 455 million+ sales. One piece is a story about a young man "Luffy"  who is inspired by his childhood idol and pirate "shanks." He starts off his journey to proclaim himself as the king of Pirates from East blue sea to find the famous treasure named one piece. On his way, in order to create his crew, he saves the life of a swordsman named RoronoaZoro. They head off together in search of treasure.
Later, they are joined by Nami- who is a navigator and thief, Usopp – a sniper and liar; and Sanji who is a womanizing chef. On their way, They engage in confrontation with notorious pirates of east blue using a ship named Going Merry. As the story progress, they are joined by several new characters including a doctor named Tony Tony Chopper, Nico Robin – an archeologist and former assassin; a cyborg shipwright named Franky.
2).Naruto-
With the selling of more than 235 million+ copies worldwide, Naruto is the third best selling manga series ever. You might have watched Naruto on Cartoon Network as its English adaptation started airing from September 2005 to January 2009, with 209 episodes.
It tells the story of a teenaged Ninja named NarutoUzumakiwho wants recognition from his peers and the village. He also dreams of becoming the Hokage- leader of his town. Moreover, the story is divided into two parts- naruto's pre-teen years and in his teens.
Want to Play PUBG on PC – Download free full version for 32 & 64 bit Windows
3).Fujiko Fujio(Doraemon)-
As a kid, I used to watch this anime on the television. Now after finding out that all Doraemon is based on Fujiko Fujio manga, I would say that I had a much better experience reading manga than watching.
It is a story of a typical lazy boy NobitaNobi. He gets poor grades and gets bullied by his friends. His descendants are fed up from their lives. They blame nobita for all this and sends a robot named Doraemon in the past to assist Nobita when he was younger. Doraemon is a blue cat robot who don't have ears. He is afraid of mice.
Doraemon tries his best to help Nobita in getting his life together for the sake of his future. Moreover, He uses several future gadgets to help nobita.
Final Words.
After reading manga such as One Piece, Naruto and Doraemon, I would say that if you like reading comics, then you should give a shot to the manga. They are created in different genres from the action –adventure to Romance. Manga is famous for its unique storytelling, characters. I recommend you to try at least one manga because after reading you would more for yourself.
Are you going to read Manga or not? Whatever your answer is please mention it in the comment section below. Moreover, if my recommended manga is not enough for you then feel free to ask more.