Windows Operating system is famous all over the world and is the first choice of every laptop user. It comes with various features and helps in performing various tasks every day. In order to use the full features of windows, one must possess a license key and a missing license key results into "Your Windows license will expire soon error" which keeps popping up on the screen, and that's irritating.
This happens when your windows license is expiring soon and you need to purchase a new license to continue using windows to the full extent. There are millions of windows user around the world and a lot of them must be facing this issue, to help you out with it, we have come up with various solutions to fix the issue.
Make sure you stick to the article till the end and let us know which method worked for you.
---
What causes this issue?
We all are pretty much aware of the windows bug where "windows license will expire soon" is one of them. Sometimes, windows often show this error even when the license is not going to expire.
The pop-up warning comes after connecting a device to the PC, charing it, attaching the headphones, and upon rebooting. Microsoft is working on the issue but there are still a lot of users who have forced stopped windows update and are getting the warning message.
---
Methods to Fix "Your Windows License Is Expiring Soon" Issue
We are listing down some methods which may help you out to resolve "windows 10 license will expire soon" issue. You need to follow the steps correctly to get rid of the issue.
Method 1: Restart Windows Explorer
In this method, you will have to reboot the windows explorer from the task manager. Follow the steps below to get started.
Press CTRL + SHIFT + ESC button on your keyboard to open the task manager.
There are various processes running listed on the task manager, out of them you will have to scroll down a little to find the "Windows Explorer" process.
You now have to end the task which can be done by right-clicking on windows explorer >> End task.
In this way, the windows explorer task will be ended. You are now required to create a new Windows Explorer task.
Click on File in the menu >> Run a new task >> type in explorer.exe. Make sure you check the administrative privileges and hit enter.
Now, press Windows key + X on your keyboard and select command prompt (admin). 
The command prompt screen will pop up, you now have to enter "slmgr -rearm" hit space and then hit enter.
You will be asked to restart your system in order to apply new changes. Once done, you won't face the windows activation error anymore.
---
Method 2:  Windows License Management Service
In this method, we will be turning off two following services of windows:
Windows License management service
Windows Update
This will stop future updates of windows and also stop prompting "Your Windows License Is Expiring Soon" error.
To do so, follow these steps (with pictures)
Press Windows key + R on your keyboard to open the run box.
Type in services.msc and hit enter.
The list of running and disabled services on your system will appear in the form of a list. Your next task is to search for Windows License management service and
Windows Update services.
To disable a service, right-click on it > Select properties > Hit Stop in the service status section.
Repeat the same step for both the services and reboot your PC.
---
Method 3: Find out your Product key
In this method, we will be using the command prompt to find out the original product key. In order to do so, you have to follow the steps below.
Firstly, using the search feature launch cmd with administrators right.
You now have to execute the following command, just copy it from here and paste it in CMD right away.
wmic path SoftwareLicensingService get OA3xOriginalProductKey
Now launch settings, for quick access press WIN + I on your keyboard.
Go to updates and security and click on activation.
On the main screen, you can now see an option which says "change your product key", click on it.
Now type in the product key that you could see in the CMD.
---
Method 4: Update Group Policies
In this method, we will be changing the user group policies, here is how it can be done.
Press Win + R on your keyboard and type gpedit.msc, hit enter.
Local group policy editor window will now open in a new window.
On the left-hand side of the window, head over to Computer Configuration > Administrative Templates > Windows Components > Windows Update.
Lookup for No auto-restart with logged on users for scheduled automatic updates installations and double click on it.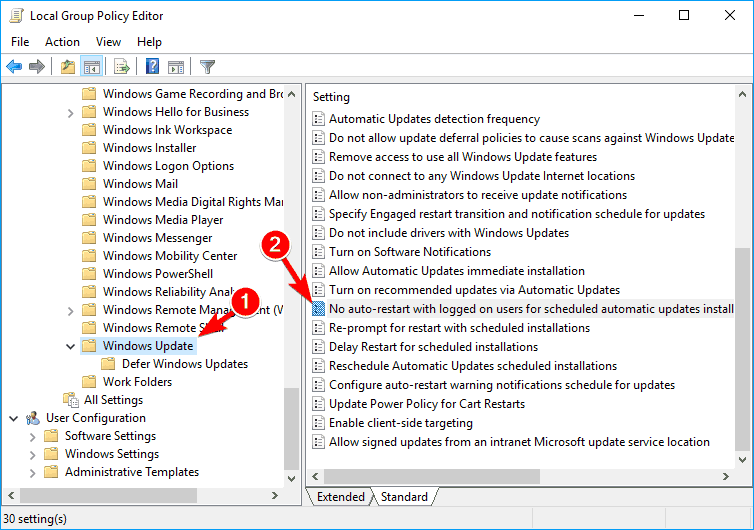 5. In the next window, you have to choose Enabled > Click on Apple and then OK.
---
Conclusion
So, with the methods listed above, you can get rid of Your Windows license will expire soon error. The error usually happens with those who are using the pirated version of windows.
Sometimes, installing a program may also lead to this issue where the windows key gets deleted from the system. We recommend you to keep your windows operating system updated as Microsoft pushes timely updates to ensure that the software is free from bugs and issues.