At times it is not possible to physically attend a meeting, class, seminar or whatnot, that is where video conferencing tool comes to the rescue, and all of us are familiar with Zoom cloud conference app, which is preferred by a lot of companies, organizations, and institutions nowadays.
Zoom is certainly an amazing cloud conferencing tool where you can organize a webinar, online meeting, conduct online classes, or hold and online meetup with your friends. Due to the Coronavirus pandemic, the countries are being locked down and due to this Zoom has seen a significant boost in its downloads and users.
However, several security issues have been found in the Zoom iOS app and macOS installer and that has created a negative image of the app in the market. Countries like Singapore banned Zoom due to security issues, Google has banned its employees from installing the app, even NASA and SpaceX employees are restricted to use Zoom.
So what could be a reliable Zoom alternative? Well, there are dozens of sites like zoom where you can organize online meetings, classes and more. In this article, we have listed down 10 Best Zoom Alternatives you should check out.
---
What is Zoom?
Zoom is a popular cloud conferencing app that produces high-quality audio and video and establishes a stable connection between the host and the members. It is mainly used by organizations, companies, and institutions to organize online meetings, classes, and group discussions.
There are various plans for Zoom including a free one, which has its features, the basic plan is 14.99 dollars that are suitable for small teams whereas the enterprise plan is for $19.99 per month per host.
---
10 Best Alternatives for Zoom
1. Cisco Webex
Cisco Webex is a video conferencing tool and has been around the market since 1995. It aims to provide web conference solutions to businesses and various organizations. Cisco WebEx also has a free plan for 30 days that can connect up to 200 members, which is a trial and offers more features in the paid one.
Features of Cisco WebEx:
Organized web and video conferencing
Organize Webinars
Share files and applications with the members
Share calls
High-quality audio and video
Stable connection
Plans and Pricing of Cisco WebEx
Starter Plan
Plus Plan
Business Plan
$13.50 per month/host
$17.95 per month/host
$26.95 per month/host
---
2. Google Hangouts Meet
Another great Zoom alternative is none other than Google's hangouts Meet that offers you organize a meeting with up to 250 users at a time, which depends upon the plan you have opted for.
Its free plan lets you connect with 10 people simultaneously, and at the same time, you can share texts, screens, files and more. For those who have a G suite subscription should look forward to hangout meets as it can help you organize webinars, meetings, classes with up to 250 users at a time.
The G suite plan starts at $6 per month and comes with various other tools and apps for business developed by Google.
Features of Hangouts Meet:
HD quality audio and video
Auto screen focusing
Group meetings
The inbuilt screen sharing feature
Texting and file sharing feature
Frictionless meetings
Pricing:
Google Hangouts Meet is a part of the G suite subscription which starts at 2 dollars per user per month, you can check out the full pricing list here.
---
3. Zoho Meeting
Zoho meetings are an outstanding video conferencing tool and an amazing zoom alternative that can let you organize webinars, meetings and a lot more. It allows you to share your screen, record group chats, mute the other participants and all of this is done under SSL/128-bit AES encryption protocols which makes your meetings and discussion secure.
Features for online meetings:
Instant and schedule meetings
Reminders and RSVPS
Remote session
Organize private meetings
Features of Zoho Webinar :
Create customized registration forms
Ability to embed registration forms
Audience interaction with features like QnA, polls, raise hands, etc.
Attendees can also share audio
The attendees can also give presentations
Pricing of Zoho Meetings:
Zoho Meetings
Zoho webinar (25)
Zoho Webinar (50)
Zoho Webinar (100)
Zoho Webinar (250)
$3.95 per host per month
$7.50 per host per month
$11.41 per host per month
$15.35 per host per month
$31.10 per month per host
Here's a full list of features and pricing according to your country.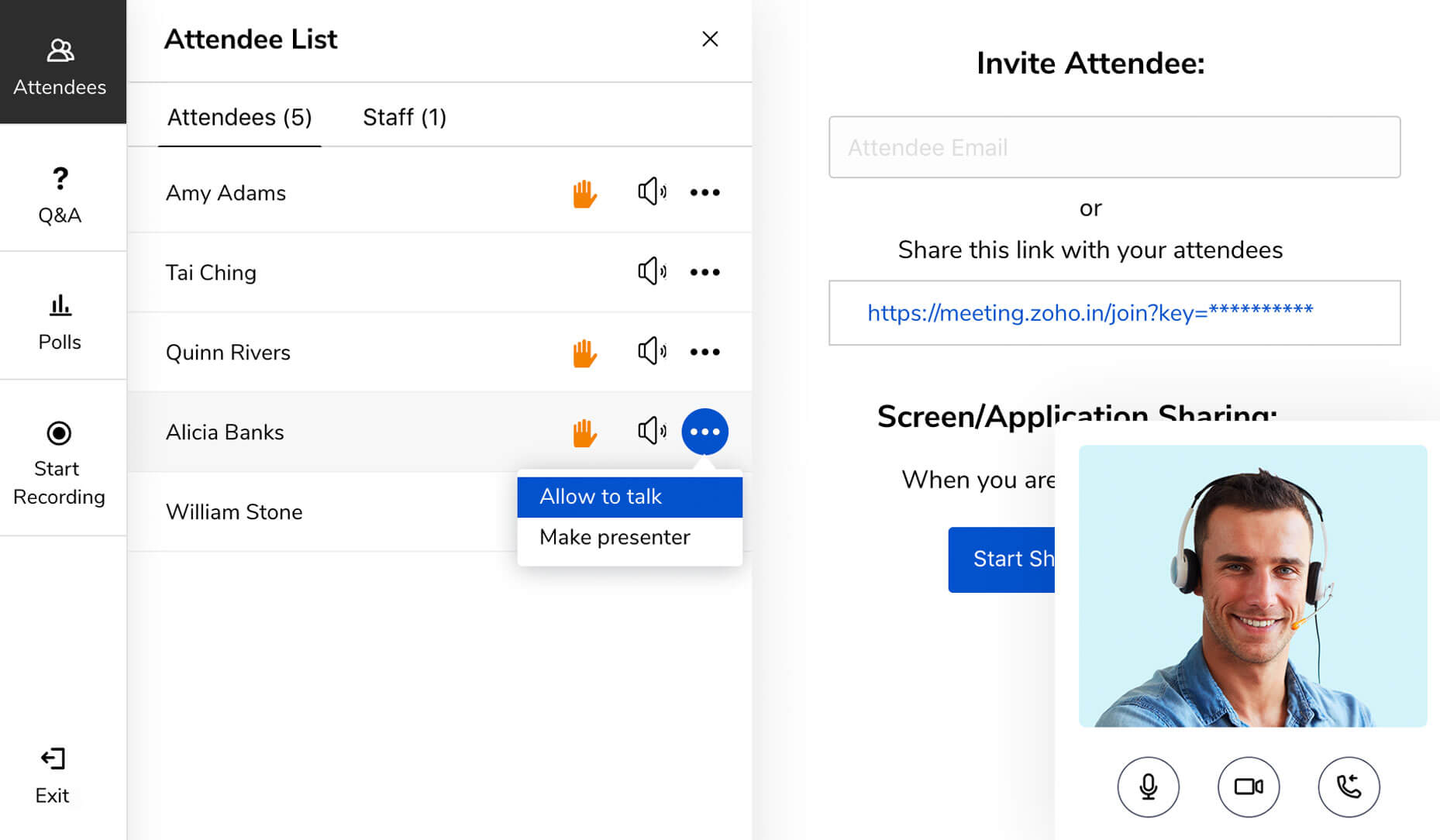 ---
4. GlobalMeet Collaboration
GlobalMeet collaboration is a suitable alternative for zoom with a plethora of features for businesses with less number of employees. The free plan lets you explore the software but has certain limitations which can be unlocked with a paid plan.
We don't recommend GlobalMeet collaboration for a medium and large business with more than 125 employees, as that's the participation limit in GlobalMeet. It has plans starting from just 12 dollars a month for each host.
If you are looking forward to hosting a meeting with more than 125 members at the same time, then you should try GlobalMeet Webcast.
Features:
Dolby Voice audio
HD multipoint Video
Organize an unlimited meeting with 125 members at a time
Record the session
Share screens with the participants and host
Mobile app for iOS and Android
Plans and Pricing:
Basic
Standard
Premium
Free
$12 per user per month
$24 per user per month
---
5. Microsoft Teams
We all are pretty much aware of Microsoft's acquisition Skype, well, that has been replaced by Microsoft teams which lets you message and video conference with your teammates.
You can host meeting with up to 250 people simultaneously and all the business-centric features are available like instant messaging, recording meetings, sharing the screen with host and other participants.
Other than this, Microsoft teams are packed with two office 365 plans which offer Office apps, 1 Terrabyte of Onedrive storage and some more features.
Features:
Private chat
Screen sharing
Video conferencing
Presentation tools
Recording live sessions
Pricing
It starts at $5 per month for each user.
---
6. Discord
It is an underrated but powerful tool for creating private servers that can be used for sharing files, VoIP, video calling and more. Discord is mainly used by gamers but is also handy for businesses and organizations that are looking for a free video-conferencing tool.
It establishes a stable connection between the members and can share high definition video and audio. Discord has almost every feature but you cannot share your screen with the other users, and record meetings.
Other than this, discord is a free and best Zoom alternative that most of the people ignore while looking for a video conferencing tool.
Features:
VoIP calling
Video calling
250,000 member limit
Create up to 500 channels
Assign roles
Pricing:
---
7. GoToMeeting
One of the best Zoom alternatives in our opinion is the GoTo Meeting, where a host can invite up to 3000 members in a meeting either through phone or PC. It has been around for a long time and is an authentic video conferencing tool.
There is no free plan available but you can opt-in for 14 days free trial and continue with the plans if you want to use it in the future. It is suitable for large and small businesses where meetings take place regularly.
Features:
Share your screen with the host
Conference calling
Video conferencing
Record meetings
Transcribe meetings
High-quality calling
Pricing:
Professional
Business
Enterprise
12 dollars per month per user
16 dollars per month per user
---
8. BlueJeans
If you own a small or medium-sized business and organize meetings every week, Bluejeans is suitable for your business. A host can invite up to 100 people in a meeting where members can share screens, chat privately, share files and do more. BlueJeans also let the members record the meeting in case they want to watch it later.
The prices are affordable and you can even try the tool for some time, once you are sure about using it, purchase a plan.
Features:
HD audio and video calling
A perfect solution for small and medium business
Unlimited Meetings
Cross-platform support
Pricing:
Bluejeans standard
Pro
Enterprise
$9.99 per host per month
$13.99 per host per month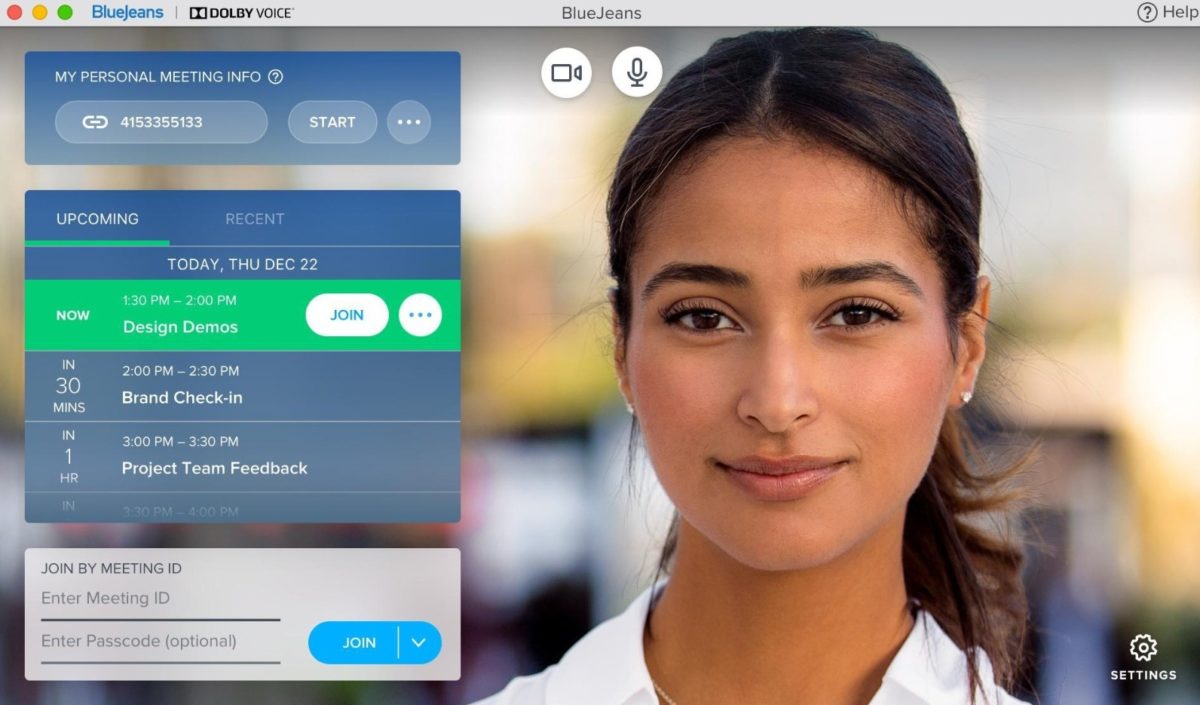 ---
9. LifeSize
A close competitor of Zoom, Lifesize is another video conferencing tool that supports 4K video calls and screen sharing, which however is not important for most of the users as the majority of people still use 720p screens.
Lifesize does offer a free plan for 6 months with certain restrictions imposed, which can be lifted off by upgrading to a paid plan. The free plan allows only 25 members at a time and that too for 90 mins only.
Features:
Personal meeting room
Online support
24 hours meetup
Pp to 1000 members
Microsoft integrations
Record meetings
Pricing:
---
10. Skype Meet Now
There's hardly anyone who hasn't heard about skype, if you are one of them, here's what you need to know. Skype is a famous and secure app for online meetings and video conferencing.
You can also use skype without downloading it on your phone or desktop from its official website. You can keep the call recording for up to 30 days and share presentations with the members.
Features:
No sign up required
Free conference calls
---
Wrap Up
The list for Zoom alternatives is never-ending, and here we penned down the 10 best zoom alternatives you should try. Video conferencing tools are mostly premium but offer free or trial versions too, we have thoroughly discussed every online meeting tool in this article.