It is not legally possible to download youtube music because Youtube's terms and conditions do not allow for sharing of their content by any individual or third party other than the actual creators themselves. Yes, we know. You found a new youtube who creates great music and covers of other songs and now you want to be able to jam to that music without having to open the youtube app all the time. But sadly, if you want to rip music from youtube, you will just be inviting legal issues.
Youtube offers access to their music with a tailored experience through their devoted music streaming mobile application called Youtube Music, which offers users access to all the trending music content on youtube of various genres by music celebrities and youtubers. But the sad thing is you cannot rip music from youtube even through this dedicated app because Youtube is hell-bent on 'protecting' their content. The best you can do is save the video for offline use and enjoy the music while the video plays as well, but this is only possible within the application itself.
Now let us tell you that the methods we are about to tell you are by no means legal. If you should feel uncomfortable to continue, best back out now as we take no responsibility for any further actions you take. That being said, the methods that we are going to list out, will teach you how to download music from youtube safely. The keyword is 'safely.' There are a lot of websites or desktop applications which are run by scammers or phishers can harm you or violate your personal space. We do not condone these websites, scammers or their practices and you should take the utmost care before you set to choose one of the many results you see on Google.
Another thing to look out for is that some websites pose as Youtube ripping sites while in actuality they are crypto mining sites. You may notice this if the downloading/ripping process requires a suspiciously long amount of time and your desktop or laptop is heating up. We advise you to immediately click away from these websites and blacklist them.
Using Third Party Programs
1. 4K Video Downloader
4K Video Downloader is a downloadable program for Windows and MacOS systems, which lets you download videos from youtube. In this case specifically, it also lets you rip music from Youtube directly in formats such as mp3, Ogg, and m4a. It also lets you select the quality of the rip from low-quality bitrate of 48 kbps to a high quality one of 320 kbps.
Select the video from Youtube from which you want the audio from and copy its complete URL from the address bar.
After that, you can go back to 4K Video Downloader and click on the 'paste link' button on the top left corner. If you have copied a youtube video URL, it will automatically detect that, and a mini Youtube icon will be displayed on it (an extremely useful feature which we appreciate).
Once you click on it, you will be shown the video download options. You can change this to audio from the drop down bar on the left by selecting 'extract audio.'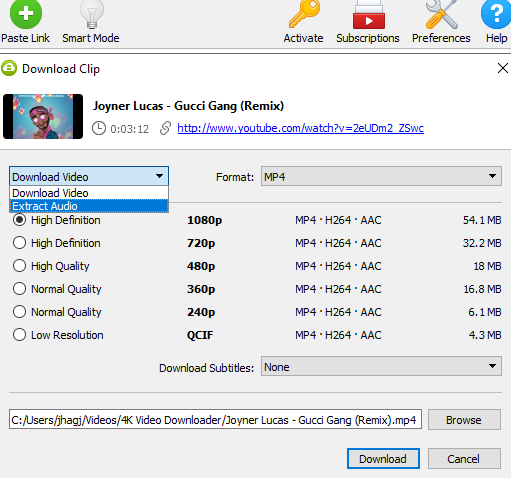 Now you can choose whatever format of mp3 you would like and also the bitrate quality of the audio you wish it to be extracted at.
Finally, click on 'extract' and wait for the process to complete.
You can now play your audio from the 4K Video Downloader library or access it from your local storage instead.
We highly recommend this program because it does what it offers to do very smoothly and it is completely free. Sure you might see some ads here and there but those are minor inconveniences and if they do manage to get on your nerves, pay the minimal amount to remove the ads and get even more features from the program.
2. Youtube Music Downloader
The name itself should tell you all there is to it. Youtube Music Downloader is another great free program to download youtube music. Just like 4K Video Downloader, you can download both video and audio from Youtube. This program is also supported on other websites apart from Youtube such as Dailymotion, Metacafe, Vimeo, CNN, Tumblr, and Facebook just to name a few.
It has features such as downloading encrypted YouTube videos and songs, downloading multiple YouTube videos/songs simultaneously and even an option to pause and resume the previous downloads.
The user interface is very simple, and the program is not very intensive on your system so it can easily work in the background and download multiple videos and audio while you work on something else. All in all, for a free program we think it is a great tool.
Using Online Downloading Tools
1. Online Video Converter

OnlineVideConverter.com is a website which lets you download videos from Youtube or directly download youtube videos for their music.
It has a very basic and straightforward interface. To download the audio that you want all you have to do is paste the URL of the music video on the bar which says 'paste link here,' select the format of the audio you want from the drop down bar and then click on 'Start.' After that, your video will start to process. Depending on the video and the format option you chose, downloading the video in or audio in that particular option might not be possible sometimes. So you will be asked to select another format from the ones given until you get the right one. Once your video has been successfully processed, the download link will be given, and then you can click on 'Download' to begin.
Considering that the service is free, it is nice to see that many audio formats such as mp3, FLAC, WMA, ogg, aac, etc and video formats such as mp4, m4v, flv, mpg, etc are given as options.
2. Vubey
Vubey.com is another website which offers free youtube video ripping service. This is a very trustable website, and it doesn't even blast your screen with ads all over the place despite being free.
The downside to it is thought that it only offers mp3 as a format and it doesn't offer a very good bitrate range of audio conversion.
To download audio from Youtube using Vubey, you need to follow the steps below –
Copy the URL from Youtube's address bar. This step is pretty much for all the video and audio downloading websites and programs.
Now copy it onto space which says 'Video URL.'
You can now select the quality in which you want your audio to be extracted at. We recommend the higher bitrates considering this is a free online tool and lower quality audio extracts might be very unpleasant.
Now start the conversion process by clicking on the 'Convert to MP3' button.
After the conversion process is done, you can download your extracted audio using the provided link.
A website with a simplistic design which offers a two-click download and conversion process makes Vubey one of our top recommendations as a method to download youtube music.