It is advised to keep scanning your PC for viruses at regular intervals and always opt for real-time protection in windows defender or any other antivirus software. Most of the time, antivirus software often misinterpret some files such as IDP.Generic as a vulnerability and shows a warning. 
But sometimes, this happens because of IDP.Generic must be infected and should be instantly removed from your PC. If you faced the same situation upon scanning your PC for threats, we suggest you to gather more information about the idp.generic warning and all of the necessary information is available right here.
In this article, we will thoroughly discuss idp.generic and also pen down methods to get rid of it in case it is infected.
---
What is IDP.Generic?
The term IDP means Identity Detection Protection and is a threat to PC that steal sensitive information such as baking details, passwords, credit card information, and other important stuff that you wouldn't want anyone else to access.
Sometimes antivirus software fails to recognize the idp.generic file and categorizes it as a virus, this happens because of outdated virus definitions. But if you regularly update your antivirus's definition, there are high chances that idp.generic is an infected file and should be immediately removed from your computer.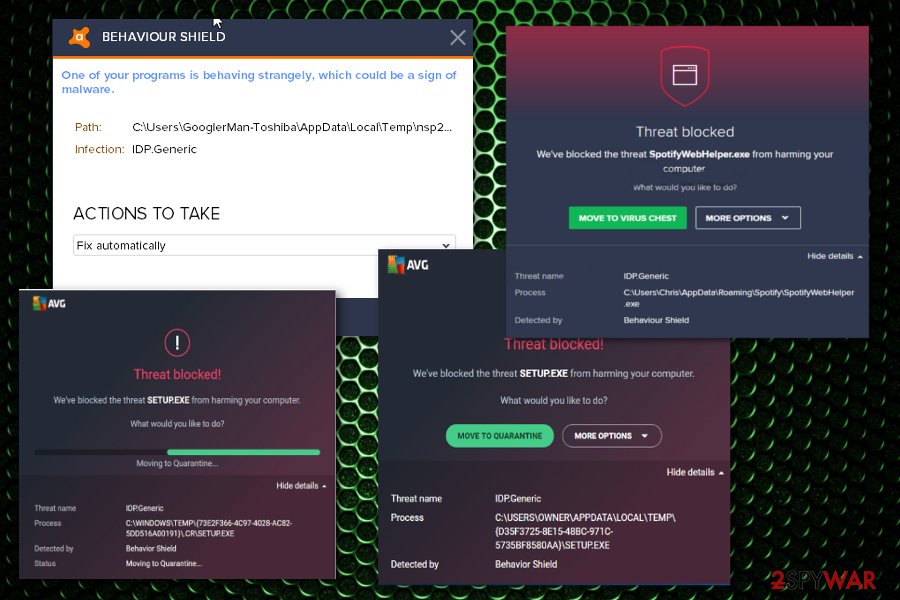 Most of the windows users are receiving virus threats from their antivirus software about the idp.generic file as it is not associated with only one file but is detected with an extensive range of files. 
You may face the virus threat in your game files, software files, and sometimes with python files too. Mostly Avast users are facing this issue and are creating issues like software and game if detected with this file, wouldn't run on their PC.
It is important to find out whether the idp.generic file detected by your antivirus software is a virus or a false positive. 
---
Is it harmful or should I ignore it?
In my opinion, I wouldn't suggest you to let go of any threats and warning detected by Windows Defender or any other antivirus program while scanning. Although most of the detections are false positives due to outdated virus definition or outdated anti-virus software. 
But, there is one more way to get more information about idp.generic to find out whether it is a virus of a false positive. You can visit VirusTotal, upload the infected file that is being detected by your antivirus software and find out if it is really infected.
Furthermore, you should also keep your antivirus program updated and turn on real-time protection from threats so that whenever you download a file, it will be scanned bu the anti-virus program and will be quarantined if infected with a virus.
Here's how you can check the infected file on VirusTotal
Make sure you have opened the path where the idp.generic file was found in your PC.

Visit

VirustTotal website

on your browser from PC.

Select choose file and select those files that are detected by your antivirus software.

Let VirusTotal do its works, and wait for the reports.

Once the scanning process is finished you can check the reports and see if there is any vulnerability in the file.
If the file is free from any kind of malicious code, your antivirus program misinterpreted the file as a virus. You can add the file to the exclusion list in your antivirus program and also update the software and virus definitions.
But, if VirusTotal detected threats in the idp.generic file, follow the methods below to remove the file from your PC completely.
---
How to get rid of IDP.generic Malware?
There are two ways to get rid of the virus, manually or using an antivirus program. I would recommend you use Malwarebytes to remove viruses and potential threats from PC as I have used it several times to remove viruses from my own laptop.
Malwarebytes is an antivirus program that takes care of your personal computer by blocking all threats and completely removing vulnerable files. It works best with Windows Defender and is recommended by most of the PC experts. 
There is a free version of Malwarebytes available to download from the official website, although there are some restrictions you will be able to remove infected files with the free version itself. To remove idp.generic from your PC, follow the set of instructions below.
We will start off by downloading the Malwarebytes program.

Click here

to download it right away.

Once downloaded, install it on your PC and do the needful.

Launch the program and click on the scan now button.

The process of scanning files on your PC will begin, you need to wait for a while and do not disturb the scanning process.

Once done, the list of threats on your PC will be listed right in front of you, permanently remove them from your PC by clicking on quarantine.

Now let the removal process finish and then restart your PC.
---
How to keep your PC safe from idp.generic?
After removing the virus successfully from your PC, the next thing you need to take care of is to prevent it from coming back. As said above, this virus can steal sensitive information from your system which includes your passwords, banking details, and even crash programs.
To stay safe from getting your PC infected with the virus once again, make sure you follow the points below:
Keep updating virus definition and software
The first and foremost thing you need to do is keep updating your anti-virus software to the latest version and update the virus definition as soon as it outdates. Also, make sure you are using the antivirus of a reputed company.
2. Do not open spam attachments and emails
We tend to receive tons of spam emails and attachments every day, it is recommended not to open any of them as none of those spam emails are useful to you. These spam mails are fishy and may harm your system if you open them.
3. Download original software 
It is highly recommended to download software from its original vendor and not to download the crack versions. The pirated versions are mostly packed with unwanted vulnerabilities to steal sensitive information from your device.
---
Wrapping Up
That's all you need to know about idp.generic which is often detected as a virus in Avast Antivirus software. In this article, we have thoroughly discussed the issue and also penned down the best working method to remove idp.generic from your PC using Malwarebytes.